---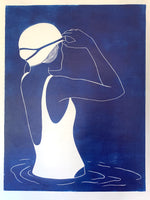 Third in a Series of Swimmer Studies, inspired by years of wild swimming with my family, particularly in the last few Covid years. The rivers around where we live have been our sanctuary.
60cm x 75cm. Printed on Shoji Japanese Printing paper using Pthalo Blue and Process Blue relief ink  by Cranfield Colours.
I'm away in August 2022 so uploading this remotely. and if you order the delivery time will be longer than usual - 1 to 2 weeks. there will be more pictures of framed swimmers soon. but if you want any info please just drop me a line via the contact page.
Framed price: £795